Non Thomas New Year Open (19th Jan) Entries & Timetable
Tue, 14th Jan 20
Another huge entry for this Sunday's Non Thomas New Year Open, with the final number hitting 475! This means a busy day for our officials and volunteers, so please work with this to help deliver a cracking meet! Thank you also to Zip Travel for athlete of the match awards, BMC for pacemaking support, Beat It Sport and Welsh Athletics.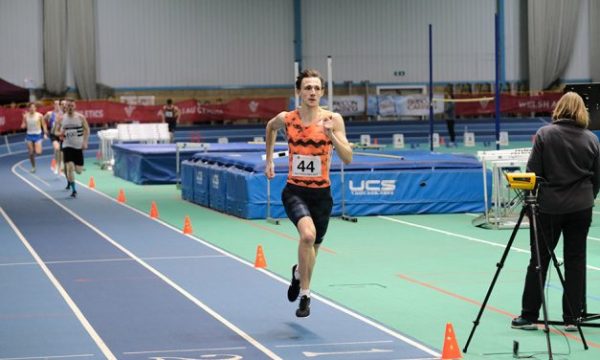 Picture: Jamie Webb on his way to a European qualifing time and winning the Non Thomas Performance Award.
Links below for final timetable and event entry lists for Sunday.
Cardiff Met GP 2 Non Thomas New Year Open 19th Jan 2020- V3 numbers (13th)
**Note those in 3km's are at 3 different times- please check entry list attached for timings.
Athletes must register and collect numbers no later than 1 hour before their event or will not be allowed to compete.
Track events are expected at final call (trackside) 15mins before event start time & field events to report at event for warm up.
Events will go fastest to slowest, with masters events in last allotted heats in each (predicted number showing on timetable- but this will change on the day)
Venue NIAC (Cardiff Metropolitan University, NIAC, Cyncoed Campus, Cyncoed Road, Cardiff, CF23 6XD)
Results on the day https://data.opentrack.run/x/2020/GBR/nonthomasnyo/
If athletes are no longer competing or need correction to seed times for track- please email [email protected]
Thanks
James
James Thie
Performance Director of Athletics/ Cyfarwyddwr Perfformiad Athletau
Cardiff Metropolitan University / Prifysgol Metroplitan Caerdydd