Tapley Hoping to Soar to New Heights!
Thu, 22nd Mar 18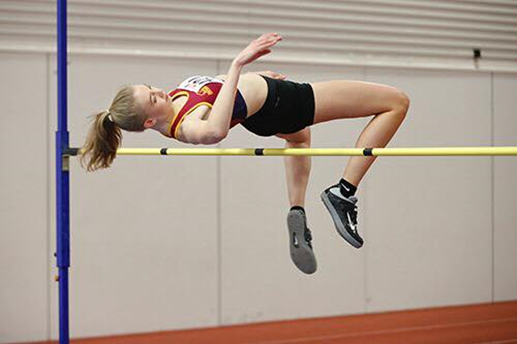 After an Impressive start to life as an Archer Hannah Tapley is aiming for more of the same this summer. Since joining Cardiff Met the Worcester High Jumper has had a phenomenal indoor season, finding the podium at all Grand Prixs at the University. Coming 2nd at the Christmas Classic, 1st in both the New Year Open and the Non-Thomas open as well as winning the Welsh Senior Championships. Recently securing a Bronze at her First BUCS competition, Hannah joined us for a quick chat about the year so far
Hello Hannah, to start things off how have you found your first year at university?
I have loved my first year at uni mainly because of the people I have met, who have helped me enjoy my time here so far. It is so easy for me to go train whenever I want which I love.
What made you chose Cardiff met?
The facilities were the main reason but the course I wanted to do was sport coaching and luckily that course is here, so turned out to be a win win situation.
You've hit the ground running since starting university, being on the podium for all four competitions and winning the welsh senior championships. How do you feel the indoor season has gone?
I wasn't sure what was going to happen this indoor season as my training had changed, I have a new coach and the first year of university is always so exciting. The indoor season has gone amazingly with also having attempts at pbs and being consistent. I feel so motivated now for the outdoor season as I know the training I am doing is working very well.
Winning a bronze medal on your first BUCS competition must be very pleasing, could you tell us a little bit about it?
For the heats I went out there thinking there would be a possibility of me making the final, so I just stayed relaxed and kept to myself clearing every height first time and I ended up winning my heat. In the final I felt really good, I tried to stay relaxed throughout the competition which was difficult as I was very excited. Finally, when the official said the positions and said I came joint 3rd I was over the moon and went over to hug my coach as she has done the hard work to help me achieve this medal. Although I wanted to jump a higher height I was thrilled to come away with my first BUCS medal especially considering I'm a first year.
As an athlete do you feel you have the support you need from the club?
The club are amazing as I feel I can talk to anyone about any problems and everyone is very supporting to one another. The club are great as hotels, transport and massage are included with the athletics fee which helps a lot.
With Outdoors fast approaching, what are your goals for the upcoming season?
PB, see what happens as I can feel big heights coming my way. And hopefully be selected to compete in British champs as I got my first selection invitation for the indoor one but I did not attend as I was at BUCS