Pierless; Indoor Varsity Champions 2019
Thu, 31st Jan 19
Met romp to victory in Inter Varsity Athletics.
The five way match between; Cardiff Met, Loughborough Students, Team Bath, Brunel University and Birmingham University is hosted annually by Loughborough at the Lee Valley athletics centre in London. This year's competition resulted in an Overall victory for the Archers, along with the Men's team prize. The closest challenge on the day came from Birmingham University who travelled in good numbers to renew the rivalry following the earlier Dual met. Birmingham University came out on top in the Women's team competition with Met closely in pursuit in second.
First on track was a standout performances from the Archers 800m athletes, with a gun to tape personal best and meeting record performance from Piers Copeland (1:49.16 MR). A feature of the Met team performance was the double points haul as Kieran Eland was victorious in the second string 800m race. In the field a strong representation of athletes resulted in victories for Harrison Walsh (SP, 13.43m) Fiona Hockey (PV, 3.41m) Zach Harrop (PV, 4.40m) and Jeff Angila (TJ, 13.79m). Back out on track, fresher Adrian Lloyd-Davies (4:03.91) fought his way to a win in the 1500m whilst it was a double victory from Amy Odunaiya (A 24.93) and Mica Moore (B 24.79) in the 200m. Following up the dominance of the oval the women continued with wins in the first and second string 60ms, again from Mica (7.57) backed up by Catherine Hardy (7.78).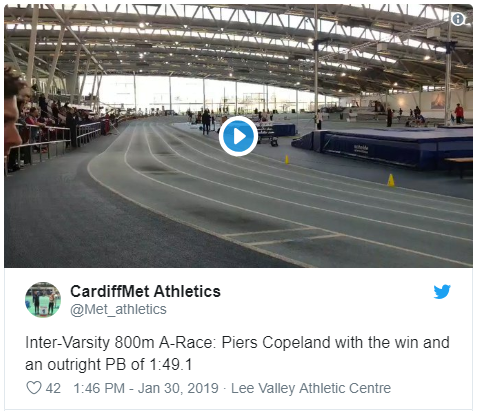 The team element of the day was epitomised across the Met team with scoring performances from all team members. Notably there were personal best performances across the team which contributed to a great atmosphere and camaraderie. Travis McMichael perhaps the happiest athlete of the day adding 2m to his shot put personal best, underlining a fantastic day of competition.
Overall Final Team Scores
1st Cardiff Met 261
2nd University of Birmingham 238
3rd Brunel University London 166
4th Loughborough University 157
5th Bath University 39