Personal Best for Scholarship Students at LIA2016
Tue, 24th May 16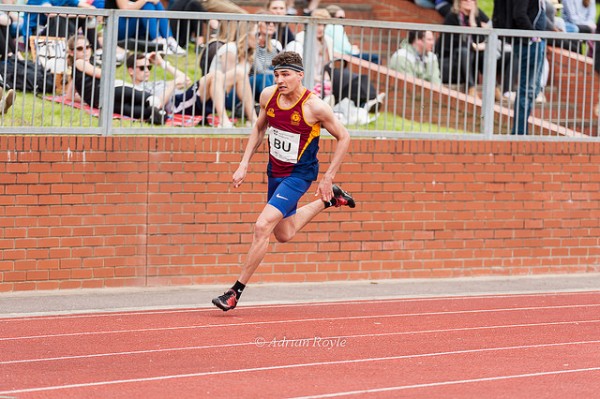 This weekend Loughborough University host its annual Loughborough International Athletics event. In the past teams from Wales, England Scotland, BUCS, Ireland and Great Britain Juniors have been filled with Cardiff Met students and this year was no different. In the BUCS team we had two individual athletes competing, Joe Reid who won a bronze medal at BUCS competed in the 400m and Mica Moore who collected three BUCS medals (100m bronze, 200m bronze and 4x100m relay gold) competed in the 100m. In the international match Mica finished 8th clocking a time of 11.96. While in the 400m Joe finished in 7th running 48.85. Cardiff Mets 4x100m girls relay team competed after winning a gold medal at BUCS. The girls pulled together to come 6th in a time of 48.37. Thanks to all the girls who competed in the team.
The Welsh team had four of Cardiff Mets finest athletes competing. This included recent silver medallist at BUCS, who run a personal best a wee prior to BUCS (47.17) Owen Smith competed in the 400m. Owen placed 3rd in a personal best of 46.81, so far Owen has beat his personal best twice. His training partner Sam Gordon competed in the 100m against a strong field including Great Britain sprinter Harry AA. Sam managed to produce a personal best of 10.43 which got him 6th place. Paul Bennett also was called into action in the 400m hurdles, which saw him come 6th in a time of 52.67. Paul competed against a tough line up including Seb Rodgers and Jacob Paul. Paul has been a great team member over his five years at Cardiff Met and will be sadly missed.
Out in the field we had three female athletes competing. First year scholar student Adele Nicoll already has made herself known in the team by winning two BUCs medals outdoors already this year. She competed in the shot-put and in the discus. She finished 6th in the discus throwing 44.65m and in the shot-put she finished in 3rd with 15. 89m.Sian Swanson competed in the triple jump, she finished in 9th jumping 11.46m.
First year scholar student Anna Gordon was picked to compete in the pole vault for Great Britain Junior. Anna has had a great start to her Cardiff Met career. Everything seemed to be going well with her going for a Scottish outdoor record of 3.90m. She was disappointed to have to exit the competition half way through due to an unfortunate injury. She expressed how honoured she was to be picked for Great Britain juniors. Check the Cardiff Met Athletics Youtube account for an interview with discussing her first year at university.
Well done to all those who competed and hope to see you all back in action soon.