Palmer Leads the Way at National Champs
Wed, 20th Jun 18
For the second year in a row Jac Palmer (Adrian Palmer) led the way at the national U23 & U20 Championships, making it another successful weekend for the Cardiff Met Archers. With a nervy opening three throws for his coach Jac took the lead with 67.29m to eventually dominate the men's hammer field and lift the national U23 title for a second year in a row. Following up with a fine 200m personal best was Amy Odunaiya (Dave Norton) with a silver medal performance in the women's 200m. In his debut year as an Archer Piers Copeland (Bob Smith) continued to impress with an excellent performance in the 1500m coming away with the silver medal. As a final year student Jade Brewster (Scott Simpson) demonstrated her consistency and confidence under pressure to win the bronze medal in the women's pole vault.
Congratulations to former student Joe Reid who in only his second year of 800m ran a tactically astute race to take the win and many notable scalps. Kudos to coach Matt Elias!
Well done to all the Archers who performed at the championships, and as always thank you and well done to your coaches.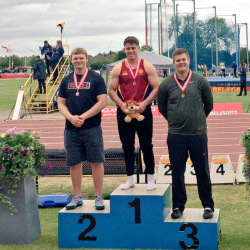 U23 Club Members Results
Jac Palmer 1st 67.29m  (hammer)
Amy Odunaiya 2nd 24.43 PB (200m)
6th 12.16 (100m)
Piers Copeland 2nd 3:56.89 (1500m)
Jade Brewster 3rd 3.50m (PV)
Fiona Hockey 4th 3.50m (PV)
Tom Williams 4th 21.69 (200m)
Jake Smith 5th 14:43.68 (5000m)
Ciaran Lewis 14th 15:30.57 (5000m)
Dan Beadsley 10.91 semi final (100m)
22.08 heat (200m)
Arron Owen 10.94 semi final (100m)
22.15 heat (200m)
Michael Wilson 15.69 heat (110H)
Jack Hope 6th 9:50.16 (3000 SC)
Kieran Eland 1:58.5 heat (800m)
Kieran Shah 11.21 heat (100m)
U20 Club Members Results
Joe Brier 5th 47.96 (400m)
Molly Newton-O'Brien 7th 1.69m (HJ)