Interview with Women's Track and Field Captain
Fri, 16th Feb 18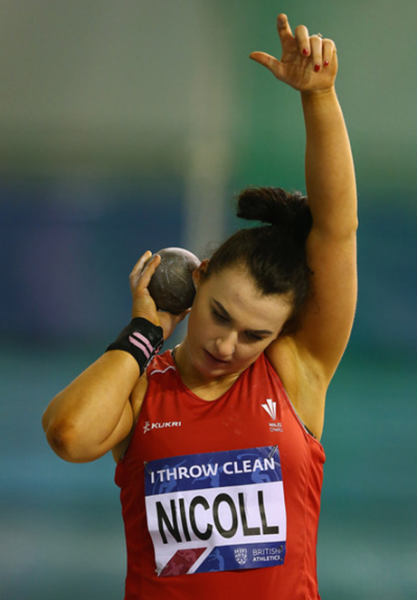 Multiple Welsh Champion and Women's Track and Field Captain Adele Nicoll discusses this weekend's British Universities Indoor Championships ahead in Sheffield. Where she will be competing in the Shot Putt and attempting to lead the team to the same successes they've had at the recent GPs. Adele herself is two-time and the current BUCS outdoors champion at shot putt and the 2016 indoors champion, here are her thoughts on this weekend's Indoor Championships.
You've had an impressive start to the season winning both the Welsh Senior Champs and the Non-Thomas open, What's are you hoping for at this weekends championships?
I'm hoping to win gold and take back the title that I wasn't able to defend last year as I was injured! But also to have fun!
What do you think the team can achieve if everything goes to plan?
We have a great amount of talent on the team so I'm just hoping everybody can perform to the best of their abilities and we will have a good chance of placing highly on the medal table
What are your goals for the upcoming season?
I've changed technique from gliding to rotation. So I'm expecting to see some drops in distances but hoping to make some improvements throughout the year. My main goal for this season is to enjoy the sport that I love!
What made you want the role of women's track and field captain?
I love athletics and I love Cardiff met. I like to think that I'm a friendly and approachable person and I like to help people so I guess that's why I thought I'd be a good captain!
As an athlete do you feel you have the support you need from the club?
Yes, I'm never afraid to ask anything and I know if I really really needed something that Matt or James would go to great efforts to help me. Also the team mates are great they are actually mates on and off the track.
What comment's would you like to make to the team competing this weekend?
Just a massive good luck to everyone! Please enjoy it and take in the whole experience. Don't waste any opportunities, do everything you can do to put yourselves in the best possible place to get your best performances! Don't be afraid to come and ask me anything!