Clowes New Challenge- Making Marathon Debut
Tue, 17th Apr 18
Masters Student Matt Clowes is part of Elite field in this Sunday's London Marathon, competing with some of the best in the world on debut.
From Stoke-On-Trent, Matt moved to Portland, Oregon in 2011 to attend Concordia University and compete for the Cross Country and Track and Field team. During his time at Concordia, he won 4 NAIA National titles, 3 titles Indoors, in the 3k, mile and anchoring in the distance medley relay, along with this he was awarded MVP for his achievements at the National championships. His Indoor career saw even greater progression, when he broke the four minute mile barrier, crossing the line in 3.58. At the NAIA Outdoor Championships, Matt came away with more silverware when he won the prestigious 1500m title.
Along with his time at Concordia, Matt has been very fortunate to travel and compete around the Globe. He has also competed at the World Mountain Championships in Tirana, Albania, in 2012 he was also English Champion over 5k on the track and British silver medallist at the 10000m. Now Graduating from his Masters at Cardiff Met and achieving, Bronze in the BUCS 10,000m, 5th in the 1500m at BUCS Indoors, 6th in the 5000m and 21st at BUCS Cross Country. Matt is making a step up to the Marathon Distance at the London Marathon on Sunday 22nd April and answered a few questions for us.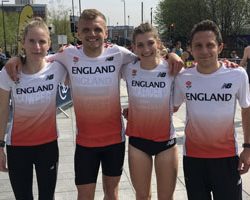 Hello Matt, to start things off what are you plans for once you graduate Cardiff met? That's a very good question. I'm not entirely sure, I love to coach but as we all know in this country there isn't many full-time coaching roles around. I thought after doing a MSc I would have the answers but anything within sports which excites me would be perfect.
After studying at Concordia University in Portland, what made you chose Cardiff Met? I knew Cardiff Met was a highly regarded sports University. With all the facilities and fantastic lecturers, I thought it was the right fit, plus I run for a Cardiff based club so It made my decision a little easier.
As an athlete do you feel you have the support you need from the club? The club has supported me very well. James Thie and Matt Wood have done a great job in making sure the athletes representing the club are well supported.
You've hit the ground running in 2018, a new Half Marathon Personal Best and only 8 seconds off you're 10k Personal Best, what's your fantastic form down to? Keeping it simple and listening to your body. I've chopped and changed distances for the past few years and never really had a big target to aim for so this year I wanted to stick at a distance and have a really go at it.
Your First half marathon only six months ago, what made you want to step up to the full marathon distance? I think pure boredom really, I don't like to take myself too serious with racing so I thought why not give it bash and see what happens.
What time do you expect to run at the London Marathon? And can we see you claiming another university record? Me and Josh have joked about this for the past few months. I'm just going to run as hard as my legs carry me and go from there.
 Aside from the London Marathon, what are you targets for the upcoming season? Not really sure, it all depends on how the marathon goes. I do love to race, so will be back in action once I've recovered.
A Massive Good luck to Matt, for Sunday and the rest of the season!