Cardiff Met & RAF GP2 New Year Open Report & Results
Mon, 16th Jan 17
Entries for last Sunday's Grand Prix, were the largest in the series history. Performances, matched the numbers with multiple meeting records and a new European record.
David Omoregie, demonstrated he is in great shape at the start of 2017, with two GP records in the 60m hurdles (7.66 secs) and 60m (6.71 secs). This record time was recorded in the 60m heats, where he edged out Dwain Chambers to win. Chambers, then staged a comeback in the final, to take first place and improve the record to 6.69.
Sarah McDonald, was a dominant 1500m winner in 4:12.73, earning alongside Omoregie, the Nando's Track Performers of the day.
Records were broken by Paralympian Steve Morris, who ran a new T20 European 1000m Record of 2:32.56. Tom Marshall came within 0.2 seconds of breaking the 29 year old Welsh Senior 1000m record.
On the field, Olympian Chris Baker was a popular high jump winner. In the pole vault,  Molly Caudery won with a height of 4.10. The Cardiff Met and RAF Field Performance of the day went to Joel Leon-Benitez of Millfield School with 5 meters in the men's pole vault.
Well done to all the Welsh Masters and South West Championship medallists, whose outstanding performances added to the positive environment.
A very big thank you to our title sponsor the RAF and the fantastic team of officials and volunteers. The successful event would not have been possible without them.  Here are just a snapshot of some of he the positive feedback from athletes, coaches and officials:
 'An electric atmosphere, excellent competition and performances enhanced a very successful day……..Thanks for a really enjoyable day.'
'…thanks again for a great meet. Will spread the word back in Essex!!'
 'Thanks  for letting me gatecrash! Great meet put on today.'
'Thank you and all involved for running such an excellent and well managed event today'
  'Just wanted to say thanks for a great, if busy, day yesterday. Thanks for having us, see you in 3 weeks'
British Athletics and Welsh Athletics news stories:
http://www.britishathletics.org.uk/media/news/2017-news-page/january/16-01-17-weekend-update/
http://www.welshathletics.org/news–media/news/news-area/2017/january/weekend-round-up-16012017.aspx
Full Results: http://welshathletics.org/media/1134607/cardiff-met-2017-results-grand-prix-2-_opt.pdf
We look forward to seeing many of you back on the 5th February 2017 for the Non Thomas Open.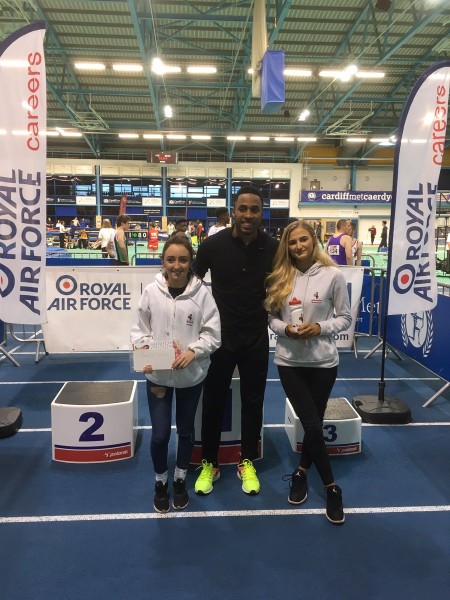 David Omoregie, Nando's Male Track Athlete of the day.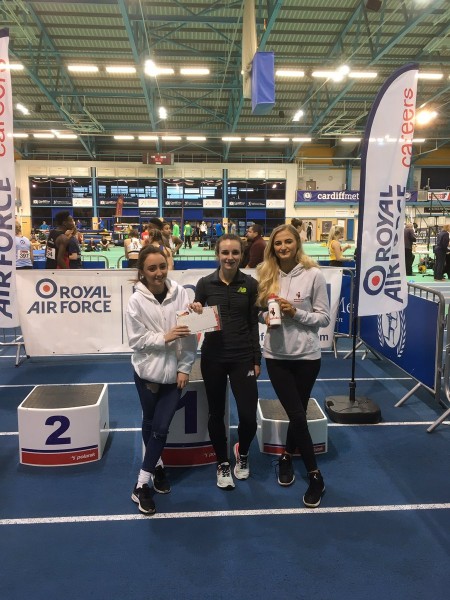 Sarah McDonald, Nando's Female Track Athlete of the day.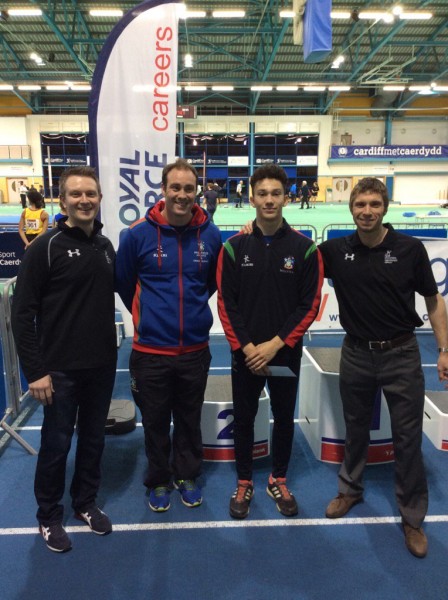 Matt Wood (Cardiff Met Director of Coaching), Joel Leon-Benitez (Millfield School) Cardiff Met & RAF field performer of the day, 
Alan Richardson (Millfield School Director of Athletics) & James Thie (Cardiff Met Director of Athletics)