BUCS Outdoor 2017 – report and pictures
Fri, 5th May 17
As the traditional season opener for university age athletes BUCS Outdoor Championships provide the perfect springboard for athletes to start their summer season with a bang. Archers athletes are no different and this year was an exceptional example of what hard work and effort lead to with the team finishing Second Overall behind Loughborough and ahead of a competitive chasing group of high quality institutions and teams.
Stand out performer of the championships for Cardiff Met was the brilliant three in a row performance of Jonathan Hopkins completing a gun to tape solo run in the 3000m steeplechase. Jon's winning time also bettering the championship best by over 6 seconds and was inside the B standard for the Welsh Commonwealth Games time.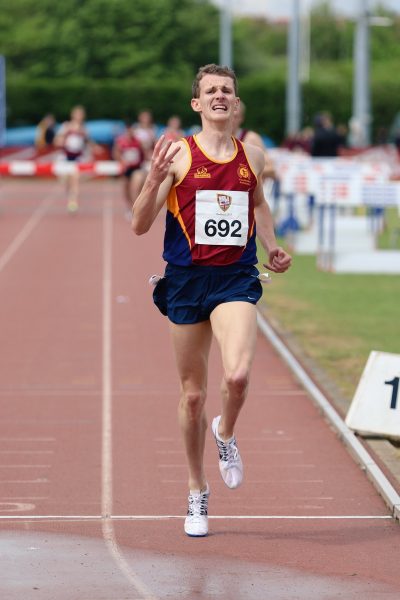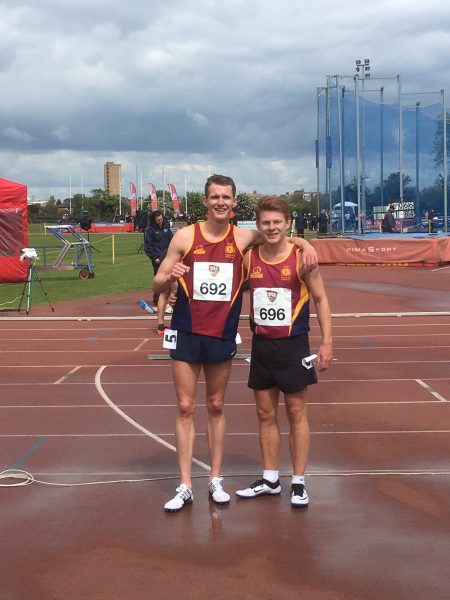 The gold medal performances continued in the field with Hannah Johnson winning the women's javelin title, following up her U23 performances last summer in commanding style, and Adele Nicoll who extended her own championship best performance to win the Shot with a consistent series over 16m. Contributing to the team score and showing some great transferable skills, Adele also secured a bronze medal in the womens discus with just two competitive throws as she concentrated her efforts and preparation on the shot.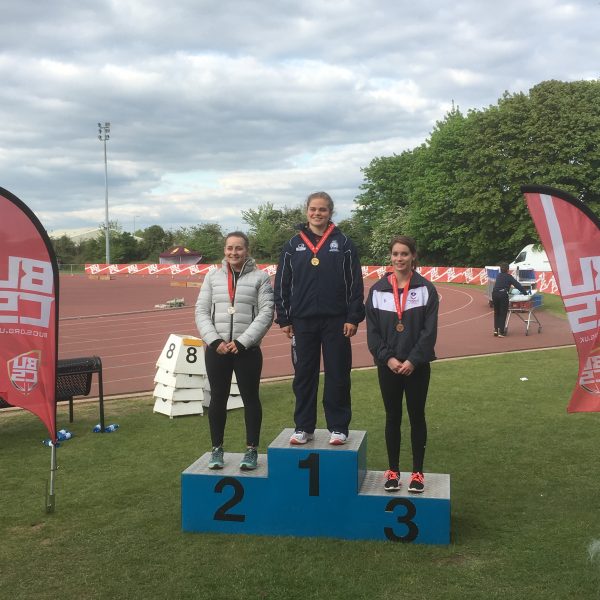 Back on the track women's sprinting was well represented by women's track captain, Charlotte Wingfield, who showed her experience to deliver a fast run when it counted and against stiff head wind conditions to win the silver in the women's 200m. Charlotte also went on to anchor the women's relay team in fine style to another silver medal performance – a captains performance that reflects the spirit of the Cardiff Met team.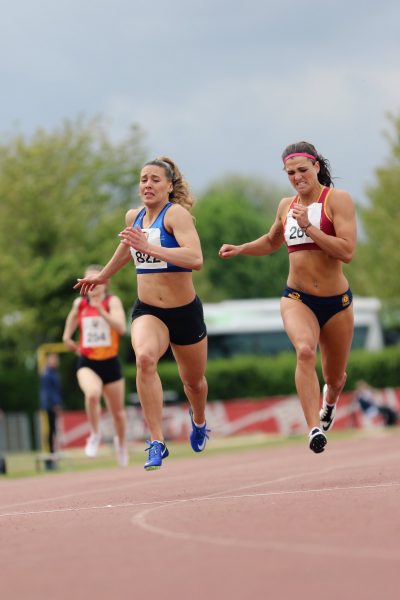 Perhaps surprise performance of the weekend was the sensational semi final run by Tom Williams in the 200m, 21.25 into a -3.0 wind, that secured his place in the final. Tom went on to win a very well deserved bronze medal. Also on the track Morgan Jones was adding to his BUCS medal tally with Bronze in the Ambulant 100m and finishing 4th on raza points in the Amb 200m.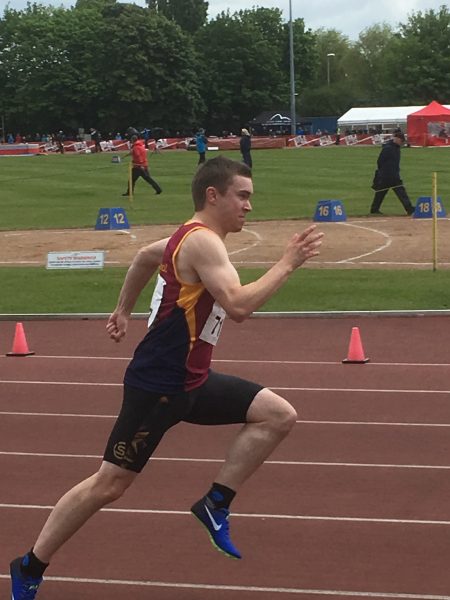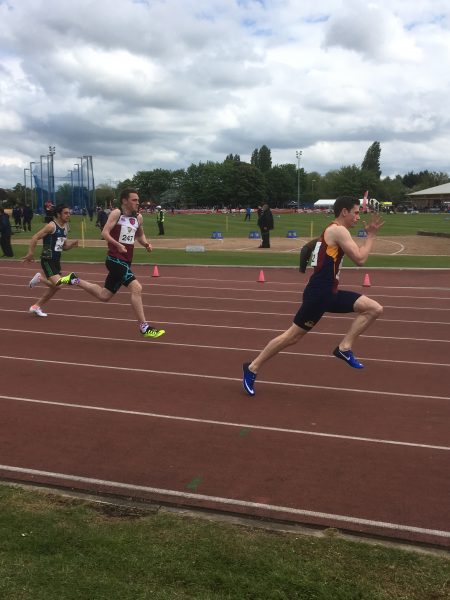 Cardiff Met has a tradition of fantastic relay teams and this year was no exception with Silver medal winning performances from both Men's and Women's 4x100m teams. The Women's quartet of Charlotte Wingfield, Amy Odunaiya, Amy Bowen and Catherine Hardy established a new club record on route to their silver medal. If one performance sums up the team spirit of the Met athletes this year it has to be the performance of the women's 4x400m team, pulled together from jumps, middle distance and hurdles athletes in the heats and supported brillaintly int he final by Loren Bleaken the four girls (below) demonstrated what it means to be an Archer, finishing 5th in the final.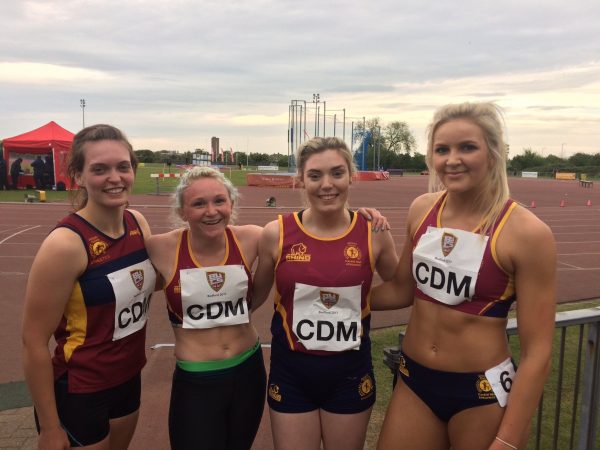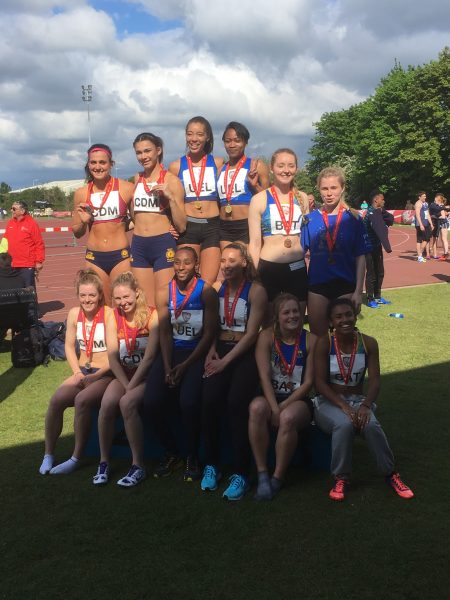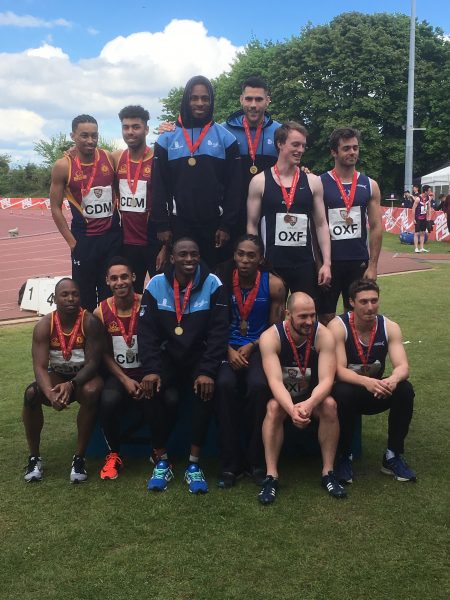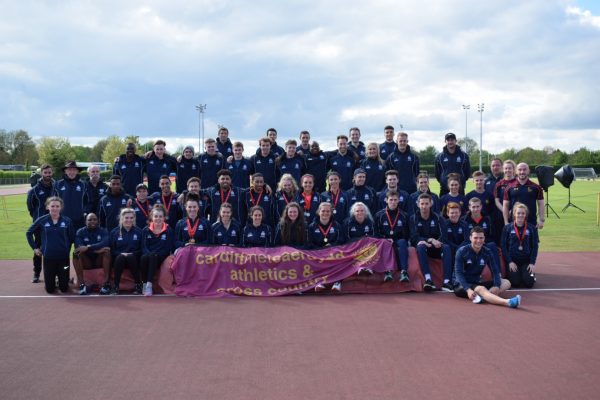 A full run down of our scoring athletes includes;
Gold – Jon Hopkins (3000m SC)  CBP + CWG B
Gold – Hannah Johnson (Javelin)
Gold – Adele Nicoll (Shot put) CBP + CWG B
Silver – Charlotte Wingfield (200m)
Silver – Men's 4×100 (Tyler Williams, Marvin Bheka, Leon Greenwood & Mark Prentice)
Silver – Women's 4×100 (Charlotte Wingfield, Catherine Hardy, Amy Odunaiya & Amy Bowen)
Bronze -Tom Williams (200m)
Bronze – Adele Nicoll (Discus)
Bronze – Morgan Jones (Amb 100m)
4th – Morgan Jones (Amb 200m + LJ), Joe Reid (400m), 4x400m (Joe Reid, Scott Barratt-Gibson, Iori Moore, Harry Fisher, Kane Densley & Elliot Scott), Jade Brewster (PV), Emily Brown (2000mSC),
5th – 4x400m (Leah Bitchell, Loren Bleaken, Georgia Walton, Gina Sunderland & Katy Townsend)
6th – Matt Clowes (5000m), Melissa Roberts (200m), Marvin Bheka (100m)
7th – Sian Swanson (TJ), Joe Pearse (HJ), Harry Fisher (800m), Ciaran Lewis (3000mSC)
8th – Eliot Perez (HJ), Kieran Wood (1500m), Loren Bleaken (400m)
Congratulations to the whole team and thank you to the staff and coaches who made the weekend a success.