BUCS Indoors 2018
Tue, 20th Feb 18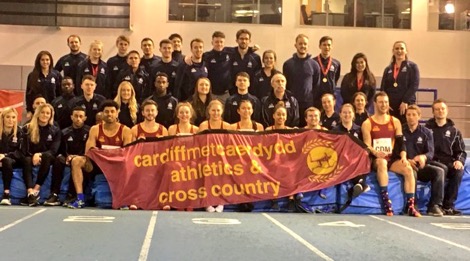 A strong team performance at this weekend's British Universities Indoor Championships in Sheffield, with the team coming away with 3rd place Overall. The Met Athletics team collectively produced some stunning performances and gathered ten medals including three Golds, three silvers and four Bronzes. A team mixed of senior aswell as fresher students showed how much depth their is within the squad, giving the team a massive boost for the Outdoor Championships later this academic year.
The women's team were Third overall with Brunel after all of the weekend's results, a massive team effort from both the track and field events to gather six medals, these included a Silver in the 4x200m relay, a team including Amy Bowen, Mel Roberts, Amy Odunaiya and Zoe Nash, Adele Nicoll getting Gold in the Shot Putt by over a metre and a half, Gold for Julie Rogers in the Ambulant 60m, Fiona Hockey and Jade Brewster Silver and Bronze respectively and Hannah Tapley with a Bronze in the High Jump at her first BUCS Indoors. Other performances from Mel Roberts fifth in the 60m, Amy Odunaiya sixth in the 200m pushing the team higher up the table with many Personal bests and Seasons Bests.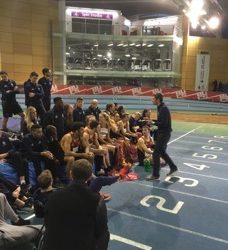 The Men's team were also third overall for the weekend gathering 4 medals, with many individuals making the final of their respective events. The 4x200m relay secured silver the team included Scott Gibson, Kane Densley, Leon Greenwood and Tom Williams, other medal performances came Morgan Jones with Gold in the Ambulant 60m and Bronze in the Ambulant Long Jump, Joe Brier in the 400m securing a fantastic Bronze in his first competition for Cardiff Met. The ever improving Leon Greenwood came away with fifth place in the 200m final, Harry Fisher fifth in the 400m, Charlie Joslin-Allen Eighth in the 1500m, Jake Smith and Piers Copeland sixth and tenth in the 3000m, Gage Francis sixth in the Triple Jump and Justin Tarrant ninth in the Shot Putt.
Congratulations to all that took part and an outstanding team success, hopefully the team can continue this brilliant form for the Outdoors Competition in Bedford on the 5th May.