BUCS 2019 Outdoor Team Announcement
Tue, 16th Apr 19
With the athletics season transitioning from the mud and boards of the winter to the outdoor track and field of the summer, the eagerly anticipated team selection for BUCS is with us. Congratulations and thank you as always to those coaches who continue to support our athletes to represent Cardiff Met. The 52 athletes selected represent a range of Archers experiences from the ever green Mica Moore and serial indoor medalist Hannah Tapley (HJ) headlining the women's team; and ever present in previous years Justin Tarrant (SP and DT) and Jac Palmer (HT) heading up the men's team. The exciting line up also includes freshers and World medalists to boast some further highlights.
As in previous years, and continuing the Archers tradition, strong relay squads compliment the individual potential heading to Bedford for the bank holiday weekend in May. In the middle distance events Jake Smith (5,000m and 10,000m) and Piers Copeland (800m) will make the most of their winter form to kick off their summer track seasons with some strong championship competition. Indoor medalist Amy Odunaiya will go alongside Mica Moore and Melissa Roberts in the 200m making for a fascinating inter Archers battle for bragging rights in the women's sprints. Fresh from his senior GB selection Joe Brier will take on a very competitive entry in the men's 400m.
A feature of the past two years has been the increased number of events included in the selection. This year we are excited to have back Gareth Picken (100WC and 800WC) and Julie Rogers (Am 100m) on the track and Harrison Walsh (Am SP and Am DT) representing in the throws. Also representing a strong field line up are Adele Nicoll (SP), Zach Harrop (PV) and Fiona Hockey (PV).
Good luck and well done to everyone selected.
Click Here – Outdoor Team 2019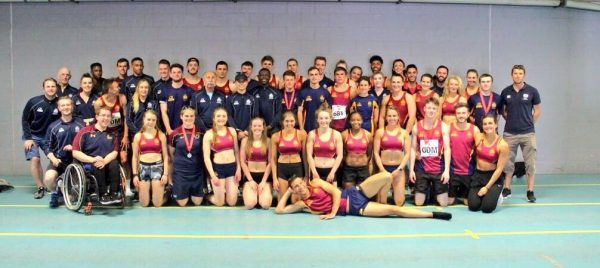 2018 Outdoor BUCS Team