Brilliant Bronze & GB Call up for Nesbitt
Tue, 11th Feb 20
BUCS Cross Country Championships Report: Edinburgh, 1st Feb.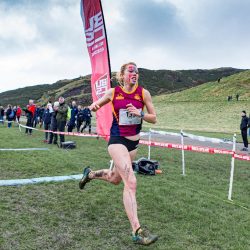 Jenny Nesbitt stormed to a brilliant 3rd place in the Senior women's long course race, and earned her call up for the World Universities Cross-Country Championships. https://www.bucs.org.uk/events-page/world-university-cross-country-championships.html?tab=Team%20
The Cardiff Met women's team, finished a superb 6th overall, with a strong run from fresher's Grace Copeland 14th & Jasmine Cooper 50th. In the men's short course another fresher, Sam Goodchild showed huge confidence to lead early on in the race, and finished 19th. This helped the team to 7th place overall. The women's short course team, had good strength and in numbers and finished in the top 20 teams, in 18th.
Men's long course had drama, when after only 100m, our men's captain Ciaran Lewis, tripped and fell badly. This cost the team an almost certain team medal, as they finished 4th overall. This was still a very good team performance, and the leader home in 5th Jake Smith, was also higher enough for World Universities selection, but deciding to concentrate on the World Half champs. Matt Edwards was in support, with a class 17th and Dan Nash also ran smartly for 20th.

Results:
Men's long course team 4th
5th         1027       Jake Smith           Male      Cardiff Met         00:32:58
17           1030       Matt Edwards    Male      Cardiff Met         00:33:37
20           1022       Dan Nash             Male      Cardiff Met         00:33:51
33           1024       Iestyn Morgan Harrett   Male      Cardiff Met         00:34:12
65           1036       Thomas Gostelow            Male      Cardiff Met         00:35:11
Women's Long course team 6th
3rd         133         Jenny Nesbitt    Female Cardiff Met         00:29:22
14           128         Grace Copeland Female Cardiff Met         00:30:36
50           132         Jasmine Cooper Female Cardiff Met         00:32:56
98           129         Hana Blake          Female Cardiff Met         00:34:49
Men's Short course team 7th
19th       1033       Samuel Goodchild            Male      Cardiff Met         00:27:24
23           1026       Jack Hope            Male      Cardiff Met         00:27:30
53           1028       Jordan Wood     Male      Cardiff Met         00:28:12
106         1025       Iestyn Williams  Male      Cardiff Met         00:29:14
159         1023       Harry Dyall          Male      Cardiff Met         00:30:03
179         1036      Themis Bower        Male      Cardiff Met         00:30:17
215         1031       Robert Howorth               Male      Cardiff Met         00:30:47
228         1032       Sam Richardson Male      Cardiff Met         00:30:55
380         1037       William Forster Male      Cardiff Met         00:33:43
454         1034       Samuel Jackson Male      Cardiff Met         00:35:22
Women's short course team 18th
142th     131         Jade Littlechild   Female Cardiff Met         00:27:09
147         134         Klara Lyne           Female Cardiff Met         00:27:15
170         130         Isabel Watkins   Female Cardiff Met         00:27:31
173         136         Molly Andrews Female Cardiff Met         00:27:32
202         135         Megan Tucker   Female Cardiff Met         00:28:02
242         127         Frances Moretto              Female Cardiff Met         00:28:45
339         137         Phoebe Marsden             Female Cardiff Met         00:30:39
391         138         Rhiannon Teuten             Female Cardiff Met         00:31:45