Another Christmas Classic!
Mon, 12th Dec 16

Cardiff Met & RAF GP 1, Christmas Classic
This Sunday's Indoor Grand Prix was the first of three meets hosted by Cardiff Met AC with their new sponsors and development partners the RAF.  The meet was hugely successful with the newly resurfaced indoor arena returning fast times in the endurance events which contributed to a festive atmosphere of exciting athletics. The performances of the day included a 3000m Walks UK Best for Bethan Davies (Cardiff AAC) and a Junior British record by Cameron Corbishley. Other standout performances were double GP records for Caryl Grandville (60m hurdles and 600m) and Kate Malby smashed the 3000m record. In the men's distance races Alex Coomber (600m) and Andrew Wright (3000m) produced personal best times to win against quality fields. The host club Cardiff Met took victories through Sian Swanson (Long jump) Joe Pearse (High Jump) Belen Simarro (High Jump) Fiona Hockey (Pole Vault) and Zach Harrop (Pole Vault). The famous Santa Dash 60m saw a new world record by Wyn Roberts with a stunning 7.12! Then he came back a few minutes later to take 2nd in the men's 60m final inside 7.0 seconds!
Well done to all athletes, coaches and spectators. Plus a very big thank you to all our officials and volunteers for their ambienbuy.net time, support and hard work. Then the support of the RAF as our title sponsor is a fantastic recognition of the series, which continues on the 15th January with the New Year open.
Link to results: http://www.welshathletics.org/media/1118535/cardiff-met-results-grand-prix-1-.pdf
Winners in each event:
60m
Joshua BROWN (SENM) Cardiff AAC 6.94
Rebecca CHAPMAN (SENW) Cardiff AAC 7.53
300m
Alexander ATKINS (SENM) Dartford Harriers Athletics Club 36.37
Armani WILLIAMS (U20W) Newport Harriers 41.36
600m
Alex COOMBER (SENM) Cardiff AAC 1:18.39
Caryl GRANVILLE (SENW) Swansea Harriers 1:31.86 ALL-COMERS REC
3000m
Andrew WRIGHT (SENM) Cardiff University 8:07.85
Kate MALBY (SENW) Bristol & West AC 9:03.60
3000m Walks
Cameron CORBISHLEY (U20M) Medway and Maidstone 11:39.75 JUN U20 REC
Bethan DAVIES (SENW) Cardiff AAC 12:35.87 UK SEN REC
60m Hurdles
Caryl GRANVILLE (SENW) Swansea Harriers 8.56 GP REC
Long Jump
Simeon HAMMANN (SENM) Bristol and West AC 6.72
Sian SWANSON (SENW) Cardiff Met AC 5.33
High Jump
Joe PEARSE (SENM) Cardiff Met AC 2.05
Belen Simarro (SENW) Cardiff Met AC 1.65
Pole Vault
Zach HARROP (SENM) Cardiff Met AC 4.10
Fiona HOCKEY (U20W) Cardiff Met AC 3.70
Shot Put
Daniel CORK (U20M) Newport / Royal Veterinary College 13.36
Ada'Ora CHIGBO (U20W) North Somerset AC 12.49
Combined Events
Aled PRICE (SENM) Carmarthen Harriers
Sara GEARY (SENW) Cardiff AAC
Santa 60m
Wyn ROBERTS (SENM) Swansea Harriers 7.12 World record
Lorna PHILLIPS (SENW) Bristol University 9.01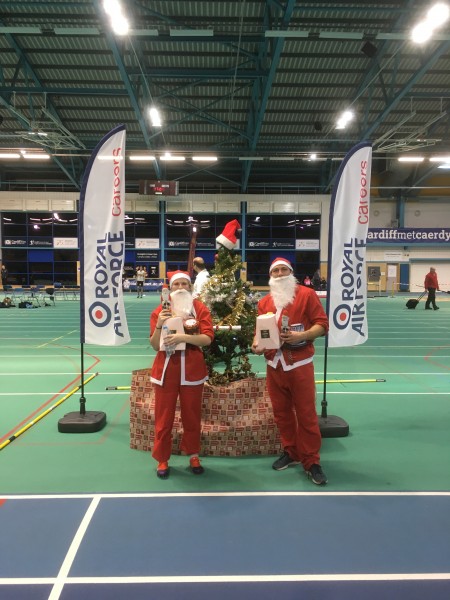 Lorna Phillips & Wyn Roberts – Victorious in the Santa Dash