2018 GP 2 New Year Open Report & Results
Mon, 15th Jan 18
Sunday's New Year Open was another big success in the history of our GP series. Again, only made possible by the brilliant officials and volunteers.
Highlights from the meeting included T44 World Champion Sophie Kamlish running a brilliant 8.58 60m and Steve Morris lowering his own UK indoor T20 1500m best with 4:00.99.
There were many big club performance and included win's for Dan Nash (3000m) Hannah Tapley (High Jump) and Gage Francis (Triple jump).
Also the meeting featured South West of England and Welsh Masters Championships. As well as proudly remembering John Howe, with Glyn Sutton (MM70 200m) winning the first ever 'John Howe Performance Award'.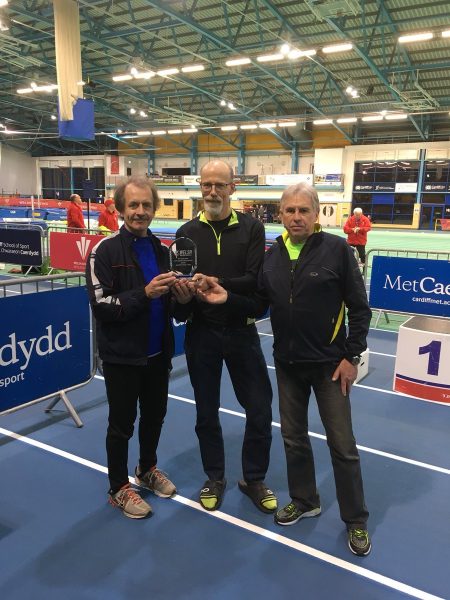 Keith Powell (Left) recieving the 'John Howe Performance Award' on behalf of Glyn Sutton, from Brett Davies (WMAA) & Mel James (WMAA)
Link to results: http://results.welshathletics.org/2018_ID_Cardiff_Met_GP2_140118/14012018/
Any issues with results please email: [email protected]
British Athletics weekely round up: https://www.britishathletics.org.uk/news-and-features/weekend-update-29/
Lastely, remember our third and final GP of the series is on the 4th Febuary, The Non Thomas Open & entries close 29th January.
ENTRIES OPEN: https://www.cardiffmetsu.co.uk/ents/event/2177/